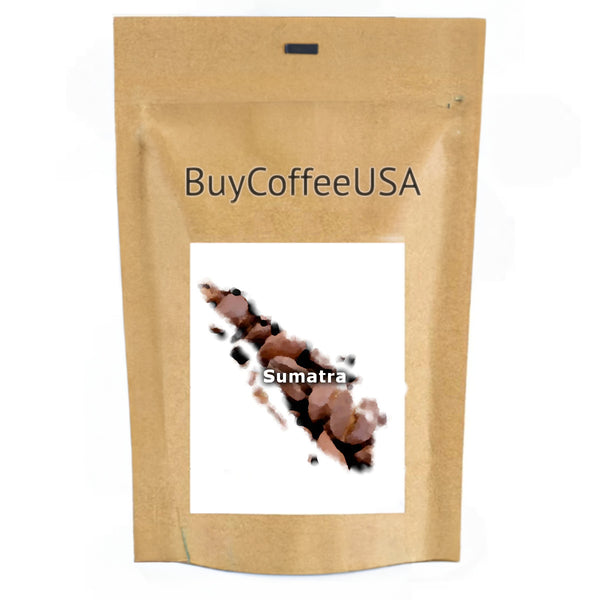 Sumatra Mandheling Coffee Beans
$15.29
Coupon 10PERCENT = $13.76 (10% off over $100)
Coupon 15PERCENT = $13.00 (15% off over $150)
Coupon 17PERCENT = $12.69 (17% off over $200)
You may mix and match any products for the coupon

Availability:
In Stock
Shipping:
Free Over $49, or $9.99 Flat
Varietal:
Arabica Coffee Beans
Guarantee:
Bag Type:
1-way Valve, Laminate Bag
Custom Grind:
No Charge
Custom Roast:
No Charge
All coffee is freshly roasted, ground and bagged after you place your order for maximum freshness. This means you can customize your coffee to best suit your tastes:
Sumatra Mandheling (pronounced 'Mandailing') has a flavor profile that is exotic, earthy, bright and with a clean (low) acidity. The earthy flavor can be mossy, funky, and mushroomy or soily - which sounds odd but is delicious.
We carry the best Sumatran coffees, which are grown above 1,100 meters and fully develop these unique flavors.
It has a heavy and complex body. 
Indonesian coffees are harvested May through September and wet hulled, producing about 600,000 60-kg bags annually.
From Indonesia the Mandheling actually refers to an ethnic group and not a specific region but is now associated with specific cupping qualities. Most Mandheling coffees come from the Aceh (or Gayo) region in the northern part.
At one point thought to be lost these Arabica beans are now one of the most well recognized high grade coffee beans in the world. It's so popular in fact, that it's now the third largest coffee producer in the world.
Reviews of Sumatra Mandheling coffee are nearly entirely positive with consumers particularly enjoying it in a dark roast.
Make sure to check out the Sumatra Organic Coffee if you like the Mandheling.
Starbucks and Costco often carry Sumatra coffees due to the incredible taste and consistency.
Coffee is a highly individual experience - no two people like the same thing.
It's important to find out what you like best, and don't be afraid to try something new, you may find a new favorite! We offer low minimums and the ability to choose custom roasts on our single origins.
---