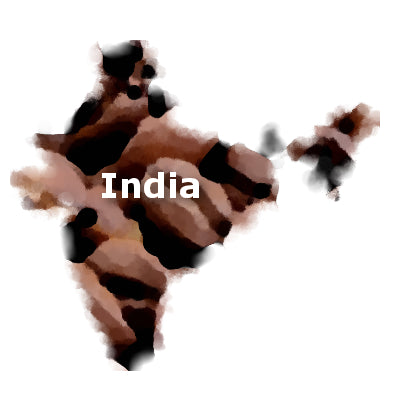 Indian Monsoon Malabar Coffee Beans
$15.67
Coupon 10PERCENT = $14.10 (10% off over $100)
Coupon 15PERCENT = $13.32 (15% off over $150)
Coupon 17PERCENT = $13.01 (17% off over $200)
You may mix and match any products for the coupon

Availability:
In Stock
Shipping:
Free Over $49, or $9.99 Flat
Varietal:
Arabica Coffee Beans
Guarantee:
Bag Type:
1-way Valve, Laminate Bag
Custom Grind:
No Charge
Custom Roast:
No Charge
All coffee is freshly roasted, ground and bagged after you place your order for maximum freshness. This means you can customize your coffee to best suit your tastes:
These Indian Monsoon Malabar coffees are one of the most unique coffees we carry! The monsooning process involves careful handling, repeated spreading, raking, and turning around in regular intervals. The beans absorb moisture and get significantly larger, turning a pale golden color.
The flavor veers towards earthy, low acidity, and smokiness with a full and rich body.

The harvested coffee seeds are exposed to the monsoon rain and winds for about three to four months, causing the beans to swell and lose the original acidity, resulting in a flavor profile with a practically neutral pH balance.
The coffee has protected status under India's Geographical Indications of Goods Act. The brew is heavy-bodied, pungent, and considered to be dry with a musty, chocolatey aroma and notes of spice and nuts.
The origins of Monsoon Malabar date back to the times of the British Raj when the humidity and the sea winds combined to cause the coffee to ripen from the fresh green to a more aged pale yellow.
The coffee beans had been changed by exposure to the sea air and monsoon winds and rain. An alternative process was implemented to replicate these conditions. Different varietals of the coffee bean may be processed in this way, hence monsoon malabar arabica and monsoon malabar robusta.
Monsooned Malabar is a process applied to coffee beans unique to the Malabar Coast of Karnataka, Kerala, and the Nilgri mountains of Tamil Nadu.
Coffee is a highly individual experience - no two people like the same thing.
It's important to find out what you like best, and don't be afraid to try something new, you may find a new favorite! We offer low minimums and the ability to choose custom roasts on our single origins.
---