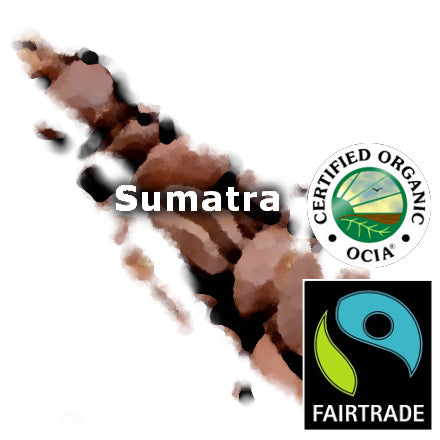 Sumatra Fair Trade Organic Coffee Beans
$15.80
Coupon 10PERCENT = $14.22 (10% off over $100)
Coupon 15PERCENT = $13.43 (15% off over $150)
Coupon 17PERCENT = $13.11 (17% off over $200)
You may mix and match any products for the coupon

Availability:
In Stock
Shipping:
Free Over $49, or $9.99 Flat
Varietal:
Arabica Coffee Beans
Guarantee:
Bag Type:
1-way Valve, Laminate Bag
Custom Grind:
No Charge
Custom Roast:
No Charge
All coffee is freshly roasted, ground and bagged after you place your order for maximum freshness. This means you can customize your coffee to best suit your tastes:
These Organic Sumatra coffee beans are 100% arabica coffees from Indonesia. They're loved for their rich body and intense flavor. Enjoy herbal notes, chocolate subtones and earthy woodsy flavors.
These are a great naturally-low-acid coffee option, making them more palateable for those with acid reflux.
Altitude: 900-1600 meters above sea level
Harvest: June - December
Processing: Wet Hulled, Sun Dried
Aroma: Slightly Earthy
Flavour: Herbal Chocolatey Spicy and Earthy Woody
Body: Medium Rich
Acidity: Low to Medium
Choose your roast and grind from the options above when adding to cart. All of our coffee is roasted ground and bagged upon order, ensuring your coffee is always fresh when it arrives.
If you're looking to reduce the acidity of this coffee even further, we recommend making it as a cold brew.
Who should try it?
We recommend everyone try this Sumatran Organic coffee. It's very distinctive from your typical Colombian/Brazilian and is a great changeup from your regular routine. It has a similar acidity but completely different flavor profile.
You may also enjoy the Sumatra Mandheling coffee.
Coffee is a highly individual experience - no two people like the same thing.
It's important to find out what you like best, and don't be afraid to try something new, you may find a new favorite! We offer low minimums and the ability to choose custom roasts on our single origins.
---