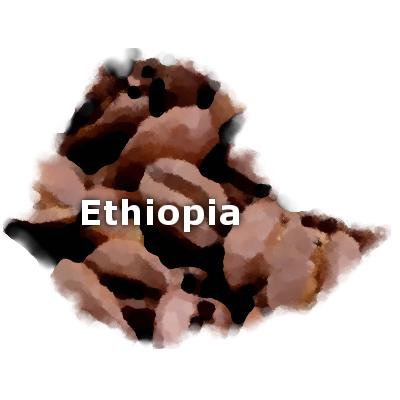 Ethiopian Yirgacheffe Coffee Beans
$16.46
Coupon 10PERCENT = $14.81 (10% off over $100)
Coupon 15PERCENT = $13.99 (15% off over $150)
Coupon 17PERCENT = $13.66 (17% off over $200)
You may mix and match any products for the coupon

Availability:
Out of Stock
Shipping:
Free Over $49, or $9.99 Flat
Varietal:
Arabica Coffee Beans
Guarantee:
Bag Type:
1-way Valve, Laminate Bag
Custom Grind:
No Charge
Custom Roast:
No Charge
All coffee is freshly roasted, ground and bagged after you place your order for maximum freshness. This means you can customize your coffee to best suit your tastes:
The Ethiopian Yirgacheffe Organic Coffee is vibrant and intensely aromatic with fruity and subtle earthy flavours. This is a lively 100% arabica coffee for those who can appreciate a complex flavourful cup.
Ethiopia is perhaps best known as a poor country but it actually produces some of the most unique sought-after crops in the world. Agriculture makes up 41% of its' GDP with coffee making up the largest portion at 28% handily beating out any other country in Africa.
The elevation of Ethiopia qualifies the Yirgacheffe as Strictly High Grown (SHG) / Strictly Hard Bean (SHB). These higher elevations means that the coffees take longer to grow delivering more nutrients to the coffee bean and allowing it to develop more flavour.
Altitude: 1800-2200 meters above sea level
Harvest: October - January
Processing: Fully Washed Dried on beds
Aroma: Sweet (Cane Sugar) Lemon
Flavour: Fruity Spicy Floral
Body: Smooth Heavy
Acidity: Sweet Citric (Lemon)
Choose your roast and grind from the options above when adding to cart. All of our coffee is roasted ground and bagged upon order.
Also Available: Ethiopian Sidamo Coffee.
Coffee is a highly individual experience - no two people like the same thing.
It's important to find out what you like best, and don't be afraid to try something new, you may find a new favorite! We offer low minimums and the ability to choose custom roasts on our single origins.
---